VIDEO'S MADE BY JOHN GRILLO

YOU & YOUR HEART

A film done by John Grillo while in college. "It was beautiful...we were all in synch, we never gave ourselves any roles or titles. the ones in the credit are arbitrary. I guess I was more of a producer and director, but...you just had to have been there. I think we're all so lucky to have a group project where even once people act like that. Oh, and I scouted all the locations and used my van to move the equipment."


---
PROJECTIONS

Projections is a non-linear emotional piece directed and edited by Sean Grasso and John Andrew Grillo (also Producer)
Starring: Chris Grasso & Shauna Tilp

Camera & Asst. Editor: Billy Constable
Grip: Brianna Hall
[Credit not listed: Asst. Camera man: John Grillo]

Music: Sigur Ros "All Alright"
Archive footage from Archive.org

Powered by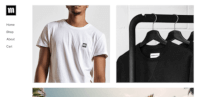 Create your own unique website with customizable templates.